Fri, 15 November 2013
Apps for Kids 051: Cookie Clicker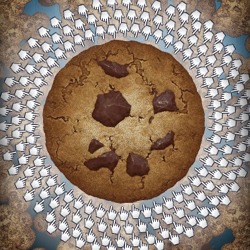 Apps for Kids is sponsored by HuluPlus. HuluPlus lets you binge on thousands of hit shows -- anytime, anywhere on your TV, PC, smart phone or tablet. Click here to support Apps for Kids and get an extended free trial of Hulu Plus.
Subscribe in iTunes | Download this episode | Stitcher
Apps for Kids is Boing Boing's podcast about cool smartphone apps for kids and parents. My co-host is my 10-year-old daughter, Jane.
In this episode, we review Cookie Clicker, a game that's free to play on the Web.
We also present a new "Would you rather?" question and Jane lists her favorite comic books.

If you're an app developer and would like to have Jane and me try one of your apps for possible review, email a redeem code to appsforkids@boingboing.net.
Jane and I love to get your emails with questions about game, gear, and tech. What's your question?
Listen to past episodes of Apps for Kids here.
To get a weekly email to notify you when a new episode of Apps for Kids is up, sign up here.
---