Sun, 12 February 2012
Apps for Kids 009: Jetpack Joyride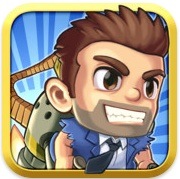 Apps for Kids is Boing Boing's podcast about cool smartphone apps for kids and parents. My co-host is my 8-year-old daughter, Jane Frauenfelder. In this week's episode we have a special guest. He's Jane's friend and his name is Ronan Park. He's going to tell us about a terrific endless runner game for the iPhone and iPad called Jetpack Joyride. It's free in the iTunes store.
If you're an app developer and would like to have Jane and I try one of your apps for possible review, email a redeem code to appsforkids@boingboing.net.
To get a weekly email to notify you when a new episode of Apps for Kids is up, sign up here.
---